SINGAPORE BOOK AWARDS 
---
About the Singapore Book Awards
The Singapore Book Awards is organised by the SBPA annually to recognise the best in Singapore book publishing. The first book awards was introduced in 2012. The awards are given to publishers for their best books, and are open to all book publishing companies in Singapore.
Books considered for the Book Awards must:
i) Be published in one of the four official languages of Singapore.
ii) Have a Singapore ISBN number, and hard copies must be legally deposited with the National Library Board
iii) Books that are sold in print must be sold in retail stores locally and/or overseas.
iv) For the 2018 Awards, books must be published in Singapore from 2 November 2016 to 1 December 2017.
Translated works (from a foreign language to a Singapore official language) are also acceptable, provided that they meet the above criteria.
Book Awards 2017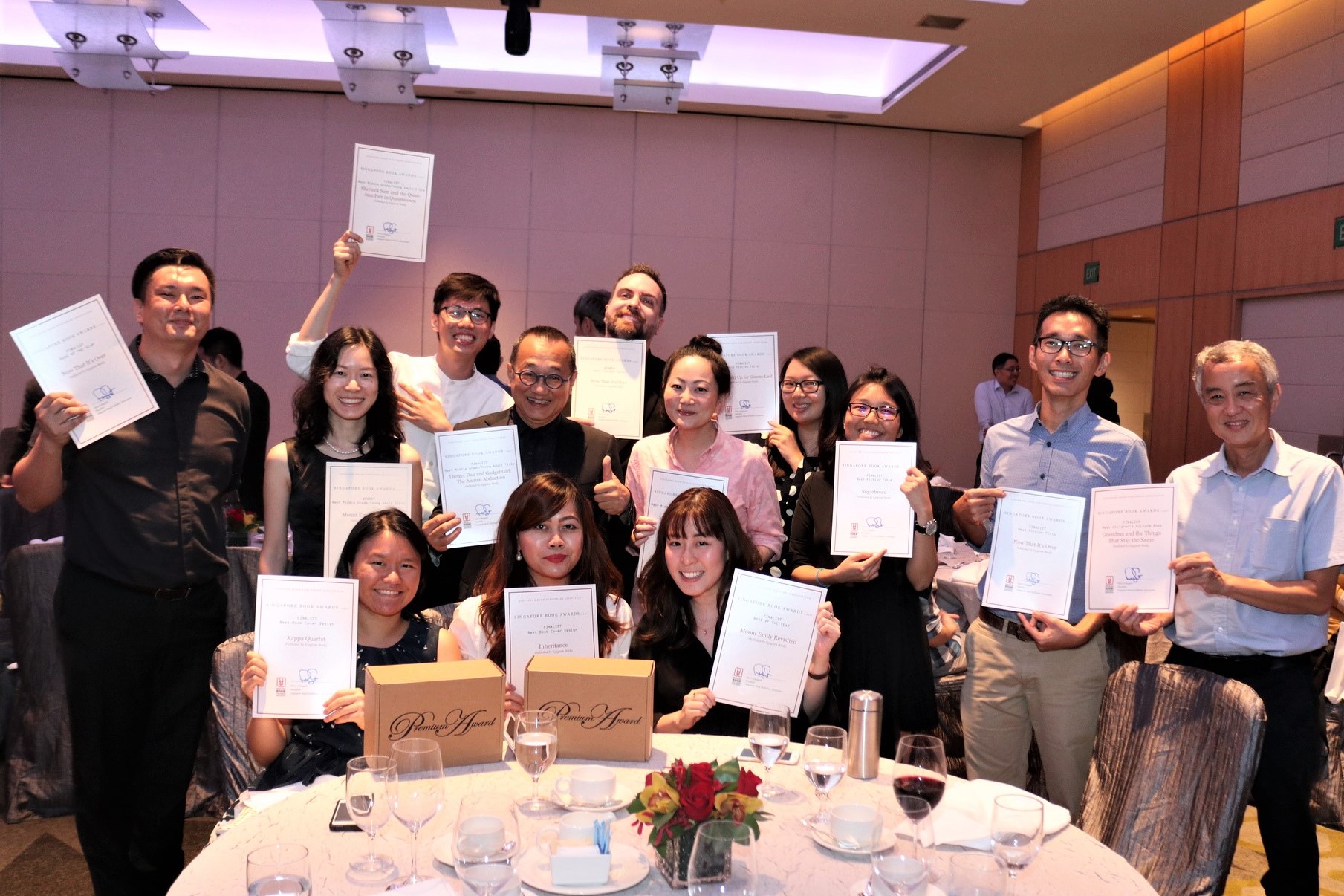 The 2017 Singapore Book Awards Ceremony was successfully held on Thursday 20 April, at the Pan Pacific Hotel Singapore. 
The winners of each category and Book of the Year were selected by a panel of judges comprising key industry personalities in Singapore known for their publishing, literary and media expertise. This year's winners, selected from a shortlist of 38 finalists in seven categories, cover multiple genres including architecture, biography, history, drama, and supplementary educational titles. 
We would like to congratulate all the winners of the 2017 Awards and look forward to more interesting and exciting submissions this year.
The Book Awards 2017 winning titles are:                            
Best Fiction Title

 

 

Publisher: Epigram Books

Author: O Thiam Chin

Best Non-Fiction Title

     

 

Publisher: Straits Times Press

Author: Susan Sim

Best Education Title

Publisher: Marshall Cavendish Education

Author: Shi Bin

 

Best Middle Grade/Young Adult Title

 

Publisher: Epigram Books

Author: Low Ying Ping

 

Best Children's Picture Book

 

Publisher: Marshall Cavendish

Author: Michael Wang

Illustrator: Neal Sharp

 

Best Illustrated Non-FictionTitle

 

Publisher: Marshall Cavendish

Author: Michael Wang

Illustrator: Neal Sharp

 

Best Book Cover Design

Publisher: Global Publishing

Author: Danny Yeo

Design and Concept: Ling Poh Foong

Illustrator: Zhang Ling

 

Book of the Year

Publisher: Achates 360

Authors: Lai Chee Kien (writer), Koh Hong Teng (comic illustrator), Chuan Yeo (creative director)
Book Awards 2016 
The Singapore Book Publishers Association (SBPA) announced the winners of the 2016 Singapore Book Awards on 11 May 2016, at a gala dinner in Hotel Rendezvous Singapore. There were eight categories for the 2016 Awards, up from six categories in 2012, to take into account the growth and development of the publishing industry during this period.
The Book Awards 2016 winning titles are:   
Best Fiction Title

 

Publisher: Epigram Books

Author: Amanda Lee Koe 

Best Non-Fiction Title

 

 

 

Publisher: National Library Board and Editions Dider Millet

Author: Dr Lai Chee Kien

 

Best Education Title

 

Publisher: Star Publishing

Author: Curriculum Planning and Development Division, Ministry of Education

Best Young Adult's Title

Publisher: Epigram Books

Author: Chew Chia Shao Wei

 

Best Children's Title

 

Publisher: Lingzi Media

Author: Lee Kow Fong

 

Best Digital Work

 

 

 

Publisher: Candid Creation

Author: Liow Yuting

 

Best Book Cover Design

 

Publisher: Epigram Books

Author: Sonny Liew

Book of the Year

Publisher: Epigram Books

Author: Sonny Liew