If you are a literary publisher, please click here to know more about the National Arts Council's available grants for your company to venture overseas.
For publishers, please click the links below for information about grants from Enterprise Singapore.
International Marketing Assistance Programme (iMAP)

SBPA would like to invite members and publishers to join us in celebrating this significant milestone at an evening gala event in the Arts House.
Highlights of the programme include:
Announcement of Book Awards 2018 winners
Book Launch of Lead Stories and Cover Stories – a set of commemorative books on Singapore publishing
Honouring our past Presidents
Visit the 50th Anniversary page here to find out more!
BEIJING BOOK FAIR 2018 INVITATION
We would like to invite our members and book publishers to exhibit at the Singapore Pavilion in the 25th Beijing International Book Fair (BIBF 2018), which will be held at the China International Exhibition Centre from 22 to 26 August 2018.
 
WHY PARTICIPATE: 

1) Increase visibility and recognition of your publications in the China market.
2) Explore and identify opportunities to tap into the massive potential of the China market.
3) Promote and network with publishers from China, as well as other countries
4) Business matching with potential Chinese publishers

As there are limited spaces available, please make your booking by fax or e-mail the duly signed Booking Form to us by  Thursday, 14 June 2018 to fax no. 6377 0890.

The e-mail addresses are: info@singaporebookpublishers.sg and betty@englishcorner.sg.

Those who respond after 14 June may not be able to qualify for the early-bird price of $2,500 for 8 square metres.

You may download the booking form here.

If you need further clarification, please do not hesitate to contact the Secretariat at info@singaporebookpublishers.sg. 
Thank you!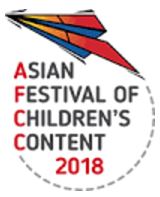 ASIAN FESTIVAL OF CHILDREN'S CONTENT 2018
5-9 September 2018, Singapore
Do you write or illustrate stories for children? Are you looking for the hottest new trend in YA novels? Are you looking for the latest tips and techniques in early literacy? If so, the AFCC in Singapore is the place to be! You can explore the Asian market with publishing and media professionals, network with distinguished authors and illustrators, learn important information on early literacy from childhood experts, and find the latest books and content from Asia and beyond.